Woah! My first review! I feel.. useful? haha
Long time ago I wanted to start making reviews about some products that I've been buying.
Tonymoly "Clean Dew" Foam Cleansers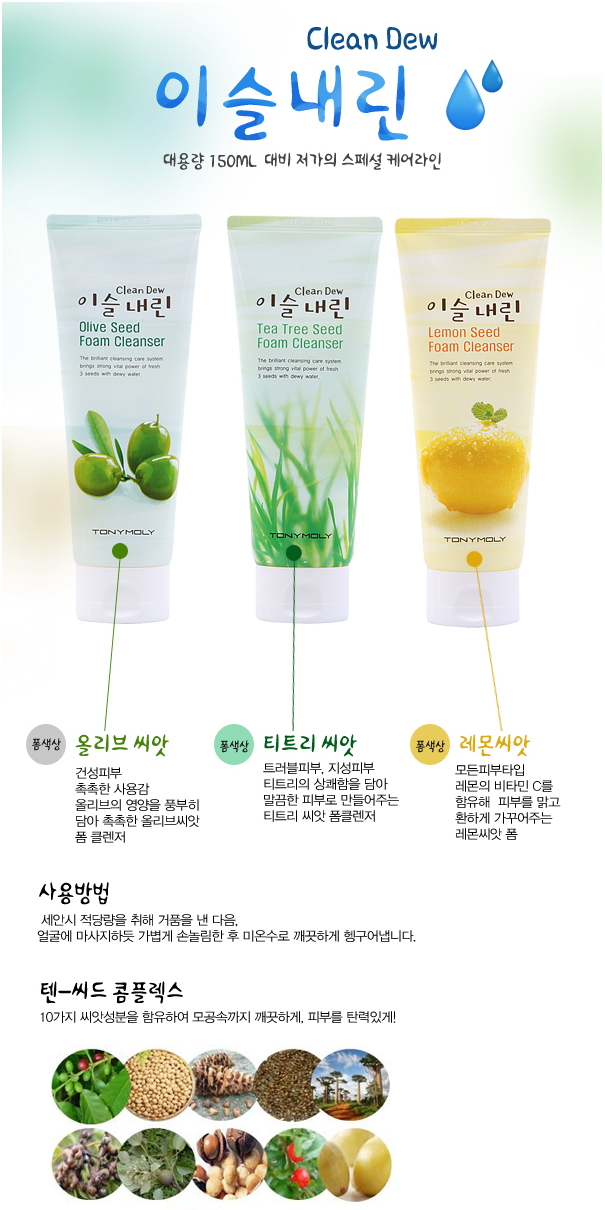 Clean Dew Olive Seed Cleansing Cream (reviewed)
This cleansing cream goes on smoothly like oil to remove dirt, make-up and has anti-aging properties.

Tissue-off Type

Contains: Olive Extract / 10-Seed Extract
Recommended: for people with dry skin and people who want a moisturizing cleanser.
Clean Dew Tea Tree Seed Cleansing Cream
Low-irritation cleansing cream with a light texture. Refreshing finish.
Tissue-off Type
Contains: Tea ree Extract / 10-Seed Extract
Recommended: for people with pimple-prone and oily skin
Clean Dew Lemon Seed Massage Cream
This massage/cleansing cream has a skin brightening effect.
Tissue off Type
Contains: Lemon extract / 10-Seed extract
Recommended: for people with a acne-prone skin and dark somber tone
Positive
+ Smells good!
+ Just a small amount is needed for all face
+ And the package is outsize!
+ The tube is soft so is really easy controling the amount
+ Removes all makeup, even BBcream and little remains of mascara
+ Moisturized effect after clean it
Negative
- It has paraben...
- Expire 12 months after opened and it's almost full yet! (Is it a con?)
- Not work so much for acne and pimples troubles
Do I recommend?
Ofc!! If you have a dry and reactive skin, this product works so good!
Otherwise, if I had a oily skin, I would try the other cleanser withouth dude!
Will I repurchase?
I'd do it. But first, I'd like try other products
Conclusion:
It's really soft cleanser, easy to lather up and wipe off. Smell very good and it works: moisturizing and clean all remains of makeup. I've got a really dry and reactive skin; I've eczema, and this product is one of the few ones which my rare skin tolerates!!
I hope it helps to you!! Please, ask me if you've got any question ~
Kasui